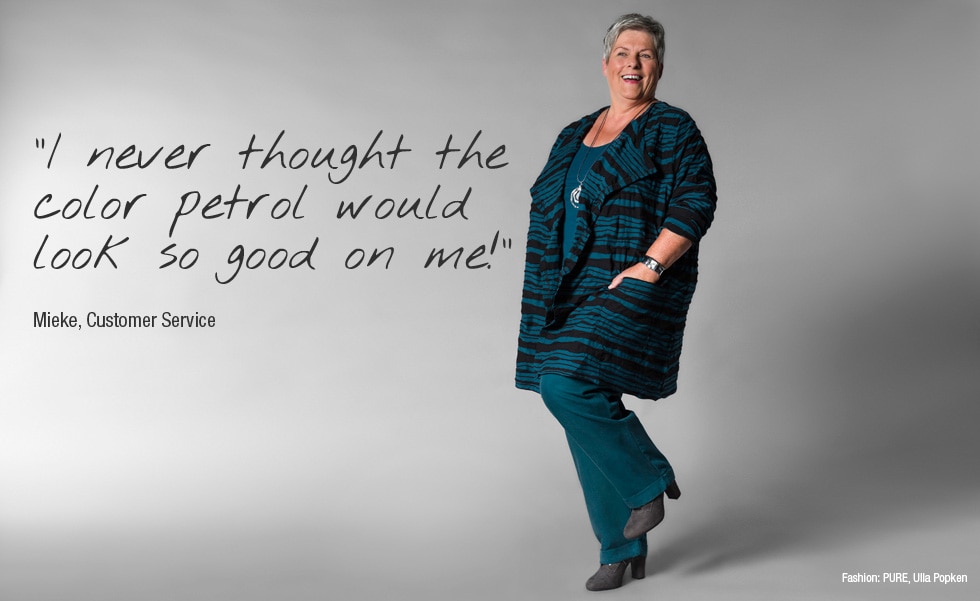 This really suits me!

---

Mieke presents her favorite outfits from the September Collection

Mieke prefers comfortable clothes that don`t restrict her in any way. At the same time, she likes to have just a dash of elegance to her outfits. She tends to select strong colors such as orange, blue and aubergine. At our styling session we suggested a color that Mieke has never had in her wardrobe: Petrol. This deep green/blue tone is just perfect for her tanned complexion and is the absolute trend color for fall/winter 2016/2017. Petrol can look conservative yet at the same time fresh - complementing perfectly all those colors that Mieke so likes to wear.

Here we have combined a petrol colored tank top in a jersey knit with a striped knit jacket from the PURE range. This a-line jacket comes in soft eco cotton. When worn open it automatically creates a more slender silhouette for Mieke and is an optimal figure enhancer.





Beautiful Lyocell Pants

Mieke was partiularly delighted with the petrol colored pants. This new and natural Lyocell material is so beautifully smooth and soft. She added these pants to her favorites collections because they had a comfortable all elastic waist.

Mieke was glowing at the photo shoot: "The necklace completes the look perfectly!" said Mieke. "A necklace or chain can add an updated look to every outfit: I have a huge collection at home in all shapes and colors."




A Quilted Vest for a sportive look this fall

When the days or evenings start to get cool, it`s time for a vest. Mieke immediately fell in love with the cognac colored quilted vest from the Selection line. The faux fur trim and hood are each detachable - very practical! The design helps to elongate the figure and the length is adjusted by size. The 2-way zipper allows you to sit comfortable.

Play with loose and figure-hugging styles

Classic elegance under the the quilted vest. Mieke chose a wide- flowing tunic in pure viscose in a dot design to wear with the figure-hugging pants. This pants sit perfectly on her waist due to the comfort waistband. Mieke was delighted with the zipper on the tunic: "Just great to vary the depth of the neckline. A great find!"





Mieke prefers to wear flat shoes to work. In the evening however she goes a little higher. This outfit works really well with either comfortable loafers or pumps.